Brazilians: Five things to avoid saying to a foreigner on a first date!
Recently I was getting ready to go out on a first date, then something hit me. I must have been on first dates with about half of São Paulo by now! Many of these dates have been fun, whilst others…well, others have been less so! I am not going to write about any specific dates here, but what I will do instead is share with you all the following: five of the comments I hear on my first dates that never fall too kindly on my ears.
These are the comments from my Brazilian dates that are pretty much guaranteed to be instant turn-offs!
Disclaimer: This list is not meant to be taken too seriously. Unless you have ever said number five, that one is serious 'let's get the bill' talk! 
Also, by writing this list I'm not suggesting that I never say anything I shouldn't to my Brazilian dates. I know I do! So if you're Brazilian and have ever been asked something weird by your foreign date, feel free to share in the comments section below.
1) Hello…it's me!
So the first one starts before the first date, with dating-app-chat. If you see an English-speaking foreigner on a dating app and you decide to say Hello in English, great! But I would strongly advise you NOT to  follow this up with, "It's me. Ha ha."
When Adele first released the song Hello, I remember finding the 'Hello, it's me!' greeting on apps quite amusing. After receiving this comment regularly for over a year though, I can say that the same is not really true nowadays.
2) This date is like having free English classes. Please, correct me if I make any mistakes!
Oh, no! No you didn't!
Do you know what I never feel like doing after I've spent all day teaching English? Explaining how the past perfect works. Especially when I'm on a first date with someone I'm really trying to flirt with. Asking someone to correct your English on a first date is not sexy!
3) You are British, but you are not as 'cold' as I was expecting

I really wasn't sure how to respond the first time I heard this stereotype…I thought it was just banter, until I realised my first date was being sincere.
Believe me, us Brits might not overwhelm you with hugs and kisses when we first meet you socially…but we are really not a nation of ice queens.
Well, not always!
4) Wow! You are really sweating!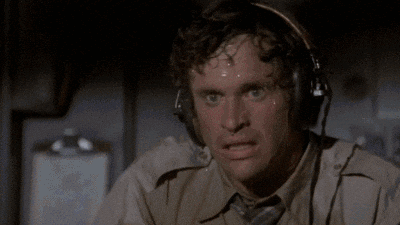 Summer is just around the corner in Brazil and this means there will be more opportunities for dates outdoors. Great, right? Well, as a Brit (i.e. Someone NOT from this tropical country!) I know that unless I am sitting in the shade / next to a fan / next to an open freezer…I'm probably going to sweat. Unfortunately, I know that this isn't a great first-date look.
Usually I wouldn't care, but a first date is when I'm trying to look sexy-hot as opposed to "is-he-sick?"-hot! Then to make matters worse, my date often won't be sweating at all. That's right, there are a number of Brazilians out there who don't seem to sweat. I've noticed that ALL my Brazilian dates from Bahia have had this superpower!
So Brazilians, if you're ever with on a first date with a foreigner who you notice is sweating, please don't say "Wow! You"re really sweating!" You don't need to tell us, WE KNOW!!! Just pretend you haven't noticed and order us more ice-cold beer…until our bodies have adjusted.
5) What are your parent's star signs?
I won't lie, talk of the zodiac signs never falls too kindly on my ears. A huge number of the Brazilians I've been on dates with absolutely LOVE talking about them though. There are many here who will even write their star sign in their Tinder profile BEFORE they've written anything about themselves. As if the second most important thing you need to consider after their profile picture is their zodiac sign. I know Brazil is not the only nation out there with a fetish for them, but us Brits are not nearly as into our star signs as you Brazilians.
But do you know what, the 'what's your star sign' question is almost acceptable….but asking when our parents were born (so that you can make a more detailed judgement about our compatibility) is a bit odd. Like, am I on a first date with a witch?
Are you a Brazilian who has heard a foreigner say something that was a turn-off to you on a first date? Are you a foreigner living in Brazil who can add to this list? Or even better, are you a Brazilian who has dated me personally and want to share something inappropriate I've said on our date!?! Feel free to comment below!